Coinigy has officially partnered up with CoinLedger to bring streamlined crypto tax reporting to users!
CoinLedger is like TurboTax for cryptocurrency. It is the leading tax reporting software for crypto investors and enthusiasts. Users of the platform are able to import their historical cryptocurrency transactions and generate necessary tax reports with the click of a button. With their 2018 partnership with tax giant TurboTax, CoinLedger is truly bringing cryptocurrency tax reporting to the mainstream.
How does CoinLedger work?
CoinLedger integrates with major cryptocurrency exchanges and platforms to allow users to import historical transactions. After importing your transactions, the software will assign fiat currency prices for each transaction and generate your required tax reports that you can then import into platforms like TurboTax or TaxAct, or simply send to your tax professional to file on your behalf.
CoinLedger follows a five step process for tax report creation. We will walk through each of these steps below.
Step 1 - Select Your Exchanges / Platforms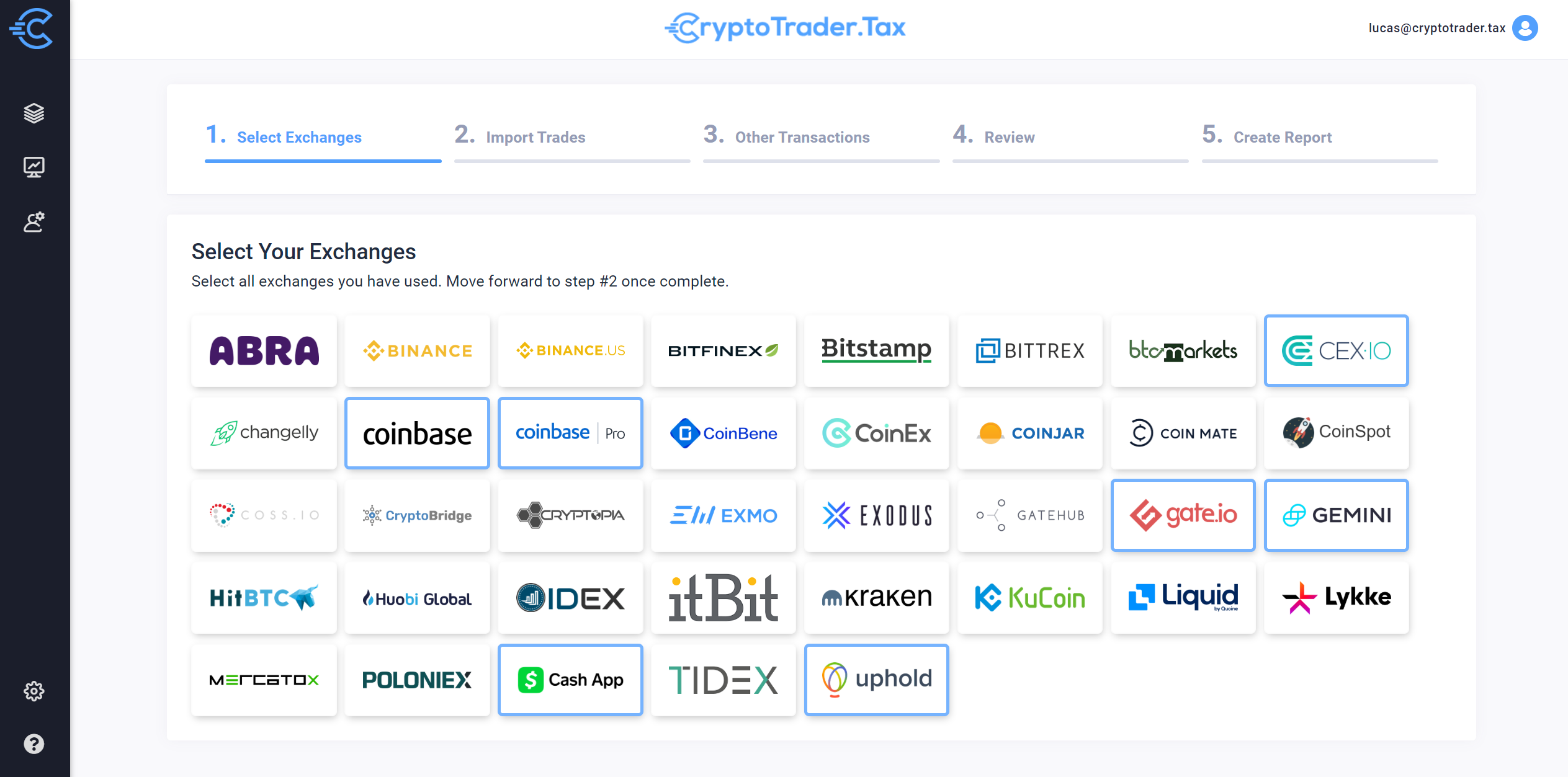 In step one, simply select each of the exchanges and platforms that you have used to buy, sell, trade, or earn cryptocurrency. These are the platforms that you will be importing historical data from.
Step 2 - Import Trades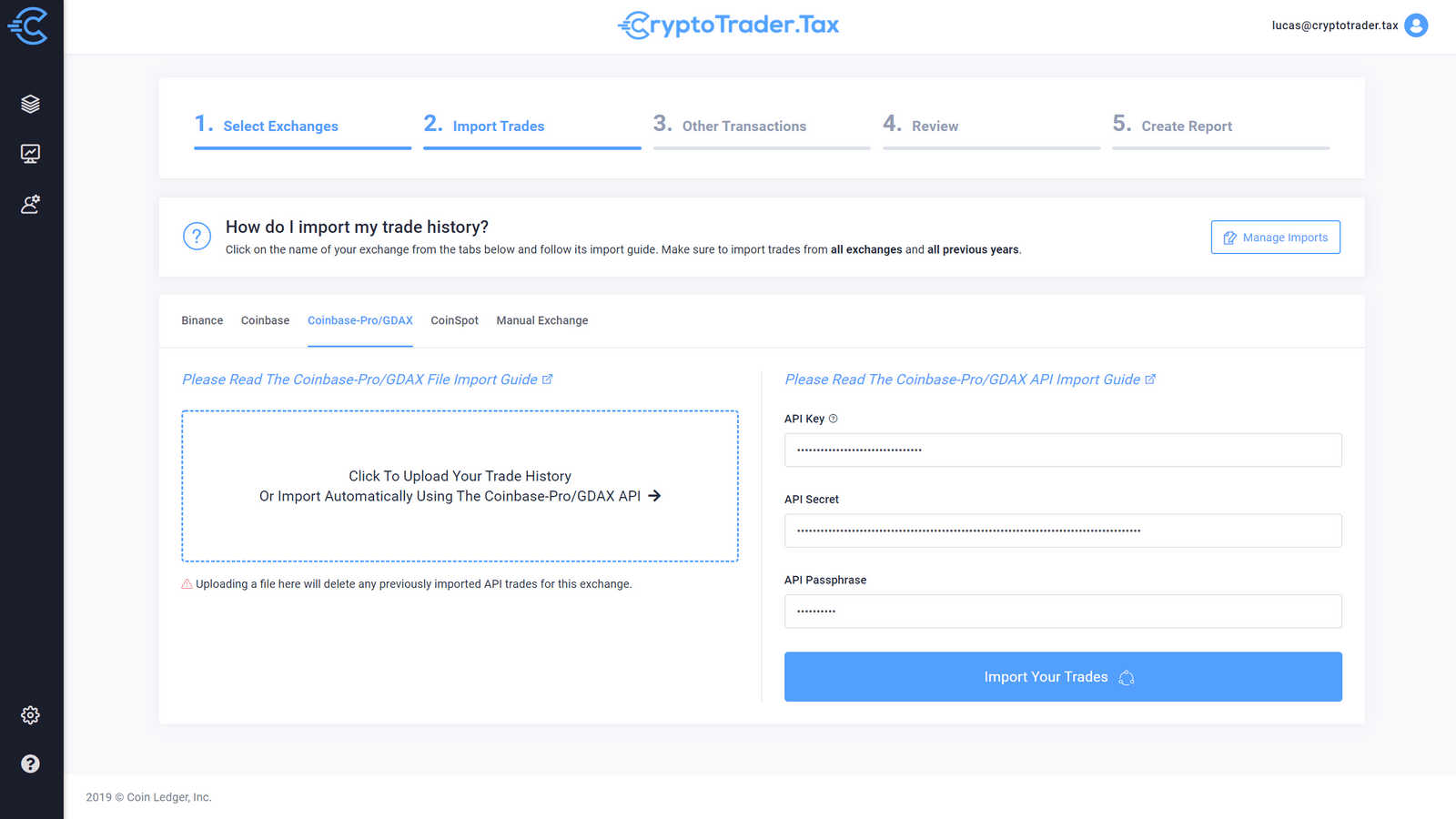 For each platform that you select on Step 1, you will see an option to import historical data from it within step 2. Import your data from each of these platforms by connecting your account via API key or by dropping in the transaction history CSV file that your exchange exports. Either option works. Once you have imported data from all of your exchanges, you can move ahead.
Step 3 - Other Transactions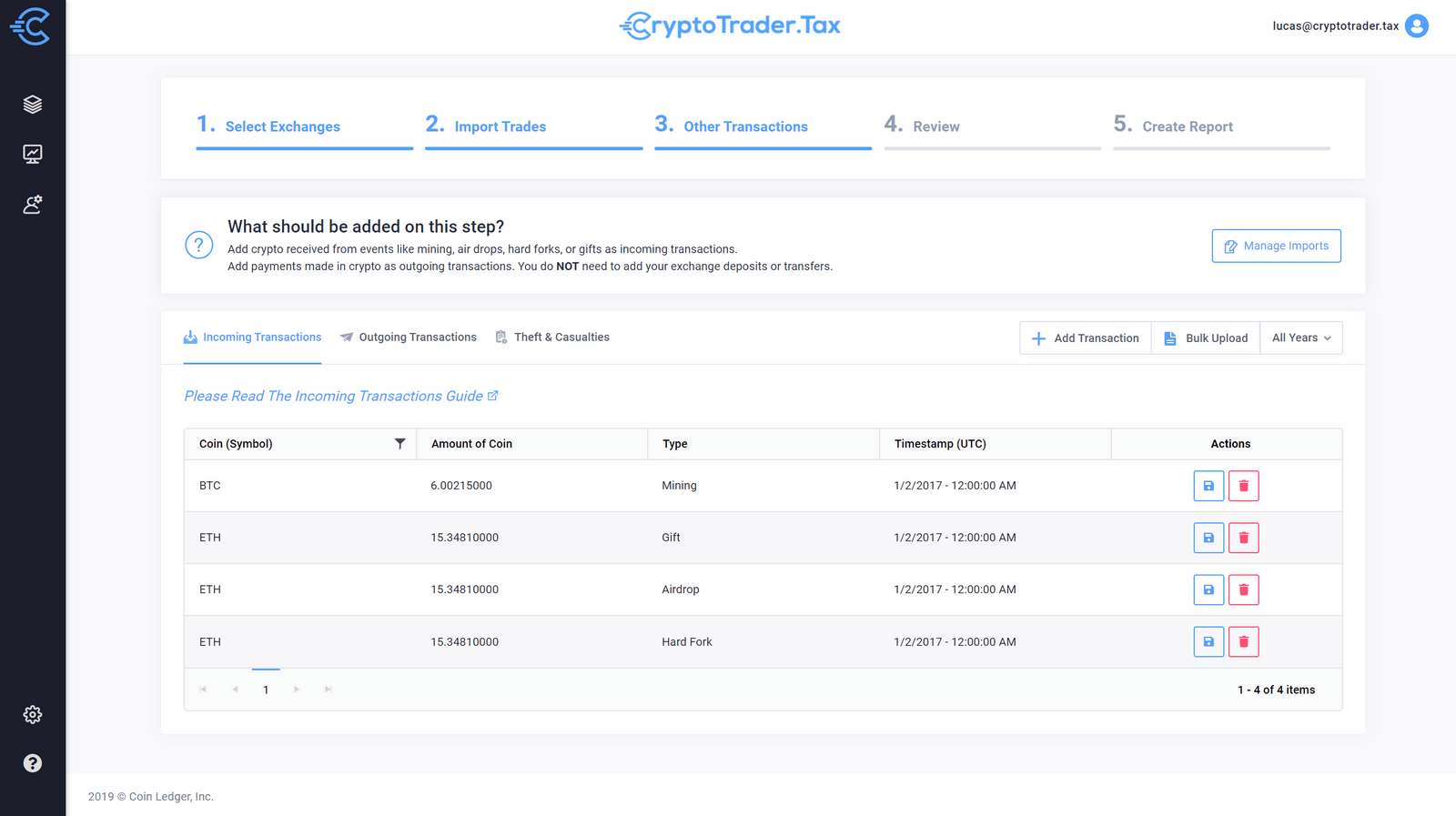 Step three is for importing transactions that are not captured at the exchange level. Incoming transactions like receiving coins from mining, staking, interest accounts, or other means should be added as incoming transactions. These types of events result in taxable income. CryptoTrader.Tax generates a complete income report for you detailing all of your mining or staking income that you received over the course of the year in USD, or your home fiat currency, values.
Payments and gifts sent to friends should be added as outgoing transactions within step three.
Step 4 - Review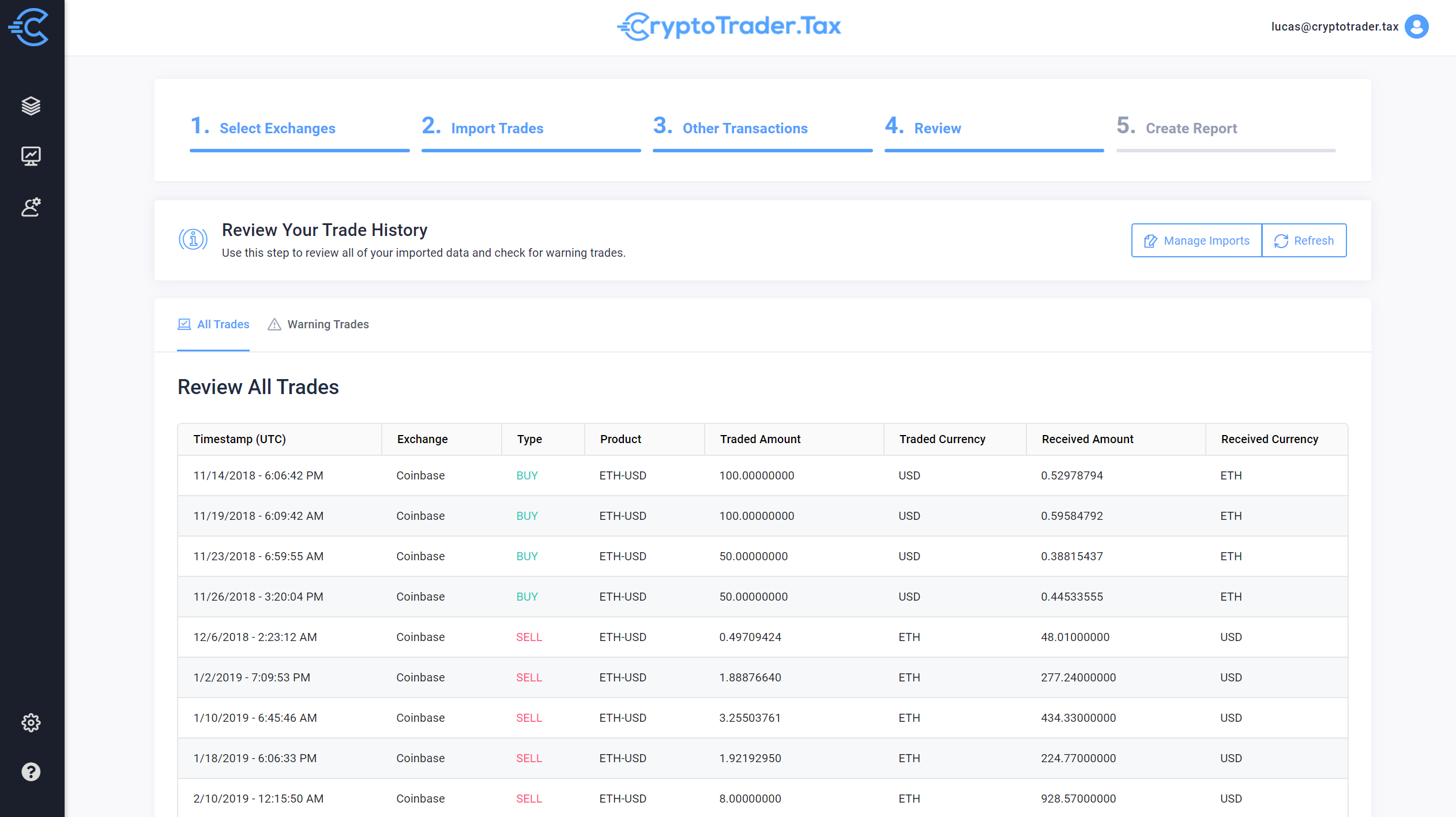 Once you reach step four, all of your data will be imported into the system. All of your data is ordered chronologically to make it easy to review. Make sure that everything is accounted for within step 4.
Step 5 - Create Report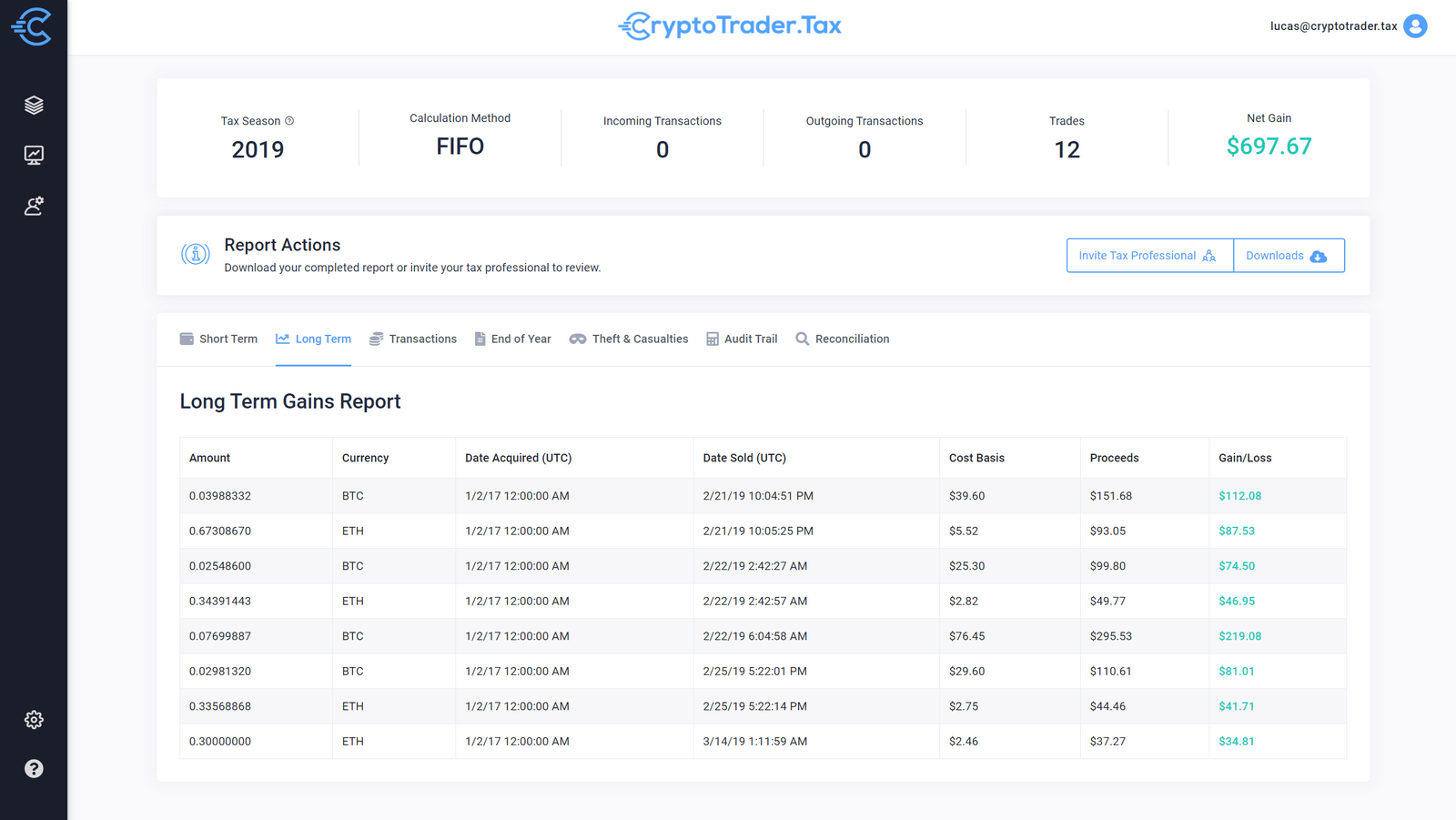 Lastly, generate your complete tax report with the click of a button on Step 5! Included in your tax report is IRS Form 8949, short and long term sales reports, an income report, as well as a complete audit trail detailing how every single taxable event was calculated. Checkout an example cryptocurrency tax report here.
You can import your complete cryptocurrency tax report into tax filing software like TurboTax or TaxAct, send it to your tax professional, or file it yourself!
In Conclusion
With 5 easy steps, CoinLedger streamlines all of your crypto tax reporting so you don't have to spend countless hours manually working through all of your data. As a result of our partnership with the CoinLedger team, Coinigy users can receive 10% off all of their cryptocurrency tax reports.