Coinigy allows users to set alerts for any coin on any exchange and at any price. To set up an alert:
1. Visit the 'Alerts' page in the upper left menu on Coinigy.

2. From this page, find the 'ADD ALERTS' box on the left side and enter in the criteria for the exchange, coin, and price for your alert along with any notes you want to add for that specific alert.

3. Once you click the 'ADD ALERT' button, Coinigy will add it to the 'Alert Requests' on the right and you will be alerted if the price hits the desired threshold.
4. Coinigy also allows users to create both email and SMS alerts. To set up an SMS alert, find the 'SMS Alerts' icon in the 'Apps' drop-down menu on the upper left side of the site. On this page, follow the steps to set your phone up for SMS price alerts.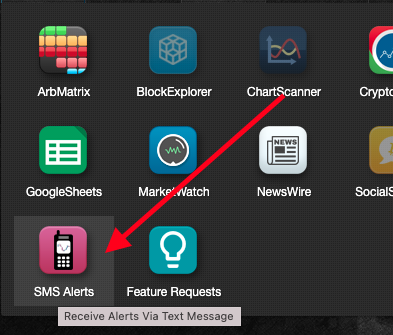 5. Finally, to enable either email or SMS alerts, visit the 'Account Preferences' page found in the 'Profile' drop-down menu on the upper right side of the site and check the box for the corresponding notification source.